Allow me to introduce myself. Some readers may know me as garymaxima, an online pseudonym that I use. I consider myself an all-rounder. I grew up in a County Wicklow seaside town and I "earned my stripes" chasing sea trout and brown trout in the small Wicklow streams and deep Loughs. Bait fishing was the method of choice for my first few years until I saw an angler fly-fishing on the local river. I fell in love with the method and saved for the kit with pocket money. I joined local clubs and over time, as my confidence grew, I started to enter club and national competitions. I took up fly tying to save valuable pocket money and to enable me to add that extra dimension to my fishing. The highlight of my trout-fishing career was qualification to an Irish team to represent the country in Scotland.
Living by the sea, from an early age I was fishing from local harbours and beaches. My father never fished (his loss!) but I had friends whose fathers owned boats so there was usually a boat to go out in on weekends, weather and tides permitting. Coarse fishing was not something I got an opportunity to practice in my early years. Winter piking trips to Blessington when the trout season was out and a couple of trips to the canal, here and there, were about the height of it. As mentioned, my father never fished but looking back now I can see that he realised how important it is for a young lad to have an interest of some sort. Mine was fishing and when he had time to spare, he would drive me to the Royal Canal near Mullingar. Here I caught my first perch and the sight of it has been burned into my memory ever since.
My coarse fishing really took off when I made it my business to get a car sorted out for myself. This opened up the whole country to me and I have not looked back since. I immersed myself in coarse fishing for a good while and totally forgot about the game and sea angling for a while. The main reason for this was I became tired of what I term the "killing mentality" of both angling disciplines. I got tired of killing six or eight trout for the sake of a €20 tackle voucher. I didn't see the point in it. Coastal competitions were exactly the same, boxes of fish abandoned in the local harbour after the weigh-ins. So I gave up competition fishing a few years ago and it is pleasure angling that takes up all my time at the moment. I'm glad to see that a lot of competitions are now run on a "points" system for catches both at sea and for trout. I just hope that these measures do not prove to be too little, too late.
But that's enough of the negativity for now.  I like to fish for anything that swims basically. When I decide on a species, I like to do the homework. Reading up on that particular fish, exchanging information on forums and some good, old-fashioned reconnaissance. This throws up new waters at me all the time and it is great travelling around the country to seek out these species and to marvel at the waters that they inhabit. As most anglers already know, bank fishing can be adequate on some waters. Not for a lot of others, with many waters totally inaccessible from the bank. Anybody who has tried to fish a lake in Cavan, for example, with a soft margin will know what I am talking about. A boat can usually overcome this problem if you have access to a slipway. But what if there is no slipway? Or you need to cross two fields to get to the water?
I'd like to tell you about a piece of kit I got a couple of years ago. If you haven't guessed it yet, I am talking about a kayak. I wanted access to these hard to reach areas and the current economic state meant that on my budget a boat, engine and trailer were out of the question. I settled for a kayak as "second best". Second best until I had taken it out on the water a few times and now I am convinced that the kayak, or "yak", is the far better option of the two for me.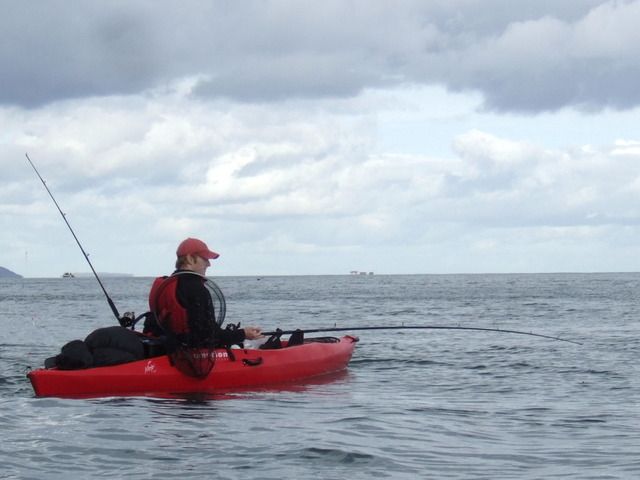 Firstly, cost was a huge factor. There was no way I could afford a boat, engine and trailer not to mention a more powerful car to pull it! I managed to get my kayak, wetsuit and a few accessories for less than nine hundred Euros. It may sound pricey but it costs a fraction of a new car and boat! There are many "angler" kayaks on the market but I decided to opt for a standard sit-on kayak and picked up the rod holders and fish finder/GPS brackets/tackle storage and camera mounts separately. That way I could customize the kayak to my own specifications. I spent the first year or so getting used to the procedures and handling of the new toy, finding out what the limits are for both me and the kayak. Now, each time I take to the water I notice more and more pros to fishing from a kayak.
Transporting the kayak is child's play. The yak I use weighs 52lbs and is easily lifted onto the car's roof bars, even on my own. Once it is secured using ratchet straps, it is ready to go anywhere. Driving a car with a kayak on the roof is a lot easier than pulling a trailer around the country and I don't need to sit an extra driving test for it either. I can park up wherever I can and simply lift the kayak from the roof and it is ready to go. Unlike a boat, I don't need to carry extra fuel and I don't need a boat slip to launch it from. I can pull up at any lake, river or any point along the Irish coastline and I am ready to take to the water instantly. That's freedom! A kayak can also get to a lot of places that a boat could never get into, needing only a couple of inches of water to float on. It is light enough that it can be carried/dragged across a couple of fields if the need arises. It literally is a "go anywhere craft".
The sit-on-top kayak I purchased is extremely stable and can carry quite a bit of gear. Four or five rods, a bivvy, bait and tackle can easily be loaded onto it. This makes it an ideal craft for a trip to an island to set up on and fish from and I intend to do quite a bit of island hopping in it next season. The mighty Lough Corrib alone has over 400 to choose from. That's a huge amount of new swims that are opened up with a kayak. And that's only one lake!
So far I have mentioned the advantages of transporting the kayak and using it as a means of transportation. They also make excellent fishing platforms! Be it fly-fishing on a lake, jigging baited hokkais or feathers at sea or casting jerkbaits for pike, the kayak performs equally well. A lot of ground can be covered on them and a real boon is the ability to move yourself well out of casting range from the shore. Again, this opens up water that usually may never see an angler's bait. As long as the sea is not too rough, the yak can be manoeuvred to within feet of rocks along the more hostile parts of the coast. Those of you who are interested in rock fishing must be able to see the advantages of this – you can get right in onto your favourite marks without the hassle of scrambling across rocks carrying all your gear, not to mention forgetting about the risks of a broken ankle whilst doing so.
If drifting is not your thing, why not get a purpose made kayak anchor or a couple of mud weights? Used in conjunction with an anchor trolley, you can then nestle your yak on the edge of a reed bed and cast to the edge of the lilies for tench or fish a greased line with floating bait for cruising carp. Or for the more adventurous amongst you, you could try the novel approach for tope that I successfully pulled off last summer. Close to where I live, the tope move in close from mid august and hang around until around the end of October. I paddle up to two miles off shore and drop anchor. Then I drop my fresh mackerel flapper baits and wait for the tope to show up. I have had great success with this pioneering method of tope fishing and have managed to land tope up to nearly 40lb in this way. I plan to hit bigger fish this summer. No doubt that this is not a method for the faint hearted!
The manuverability of the kayak is fantastic, being able to turn in a much tighter circle than a boat can. A stealthy approach is no problem either with no noisy outboards to worry about. I have taken the kayak right over the top of pike in a few feet of water without even a flinch from them. They are also a brilliant way to view a lot of the beautiful waters that we as Irish are blessed to have in our home country. With the kayak, unlike a boat, you are sitting at the level of the water, lower than you would be in any boat. It's a wonderful perspective from which to view the water and wildlife.
Now for the serious part. As with taking to the water in any vessel, there are rules that need to be adhered to if a safe and enjoyable day is to be had. A kayak is no different. Under no circumstances should anybody attempt to go afloat without a Personal Floatation Device or lifejacket. There is buoyancy in a wetsuit but this is not enough in my opinion to keep your head clear of the water and besides, a drysuit would be a better choice than a wetsuit. Always try to go out with a companion. Three is a better number than two. If you must go out alone, bring mini flares in a waterproof container and at least a mobile phone with a fully charged battery. A radio would be a much better option. A helmet is a sensible bit of gear if you intend to fish around rock marks a lot. All equipment should be secured to the kayak with bungee cables or something similar. The yak I am using is very stable in the water but freak waves and swells can occur. At least if your kayak is tipped, this way you won't lose all your precious fishing gear. Finally, on a hot day, paddling around to different marks can be thirsty and hungry work. Plenty of water and a bit of food are essential for this energetic type of angling. Fig rolls are an excellent energy food for this type of sport to munch on the go and a packed lunch in the bag is devoured whenever you decide to pull up on shore or anchor up.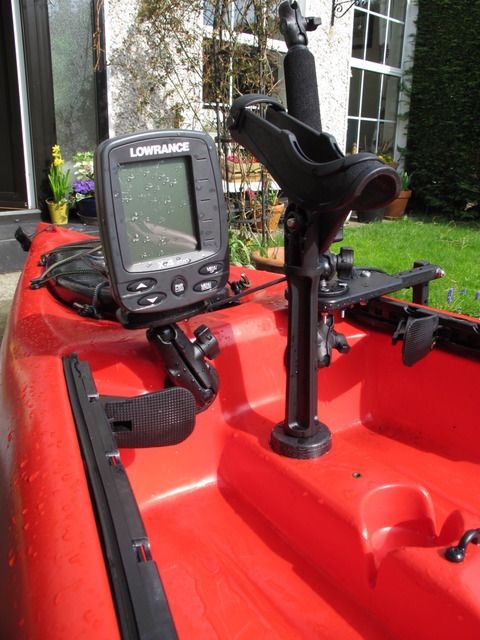 Accessorising or rigging your kayak opens up endless possibilities for fishing and safety applications. I will go into rigging accessories like fishfinders and rod holders at a later date. I will also go into more detail on the safety aspects of paddling in future articles. I will go into detail about the use of anchors and anchor trolleys. Also needing a more detailed mention are things like signalling and rescue devices; the ability to self-rescue a couple of miles out to sea; the effects the flowing tides can have and how to use them to your advantage and many other "do's and don'ts" of  kayak angling. I would not encourage anybody to buy a kayak and hit the waves immediately. There is a learning curve that cannot be rushed and safety issues that cannot be overlooked. When you go a couple of miles off land in a boat you can start to realise how, in the greater scheme of things, insignificant one really is. Being in a similar position on a kayak compounds this feeling. Having said that, catching tope on the kayak is possibly the most fun I have ever had, whilst holding a fishing rod. Anybody interested in this new and very diverse method of fishing would do worse than to consider investing in a kayak.